for my
Craftyhazelnut's Christmas Challenged Extra
click
HERE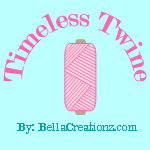 I'm up on the
Timeless Twine
blog today.
This month the Design Team will be showing you
*bet you are surprised,eh? lol*
so this is what i came up with to start the month off........
i decided to make a card to go along with the gift box that will be filled with candy. makes the sweetest gift don't you think?
*i made the hearts using craft-board which is a bit thicker then card stock so it holds up well as an embellishment when covered with twine. to hold the twine in place i used studio multi-medium*
be sure to check the Timeless Twine blog each day to see what other 3D Valentines Day items the Design Team has created to show you.