At last I can tell you all that I am back on the super fun SKdigis DT!!!
I love Sonia's cute and fun images so of course i jumped at the chance to join her again :) I am on "Team A" (only A i ever got! lol)
Today I have used, what else? A cute kitty image!! lol
If you would like to play along we would love to have you join us on our FANtastic Linking Party, as this is not a "normal" challenge blog! *winks*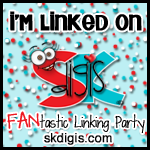 Each month we have a FANtastic Linking Party
that starts on the first and ends on the last day of the month.
Link up for your chance to win and be a Guest Designer!!