Did you all see my exciting news?
Well this was so not a good crafty day for me!!
But after four hours and four tries at coloring i had to say,
it is what it is and be done with it!!
was wondering the other day how one knows when to refill
copic markers,well today when coloring the second of four tries
i found out!! lol looks like i will have to order a refill for C3 tomorrow!
ok here is my card and hubby likes it so all is well in the Miller house now :)
I pulled out some of my ribbon from 3GJ
and used my bow maker that i love from 3GJ
be sure to join in on the fun blog hop then make a card for the challenge :)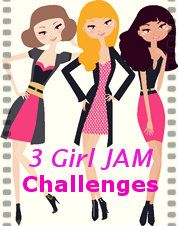 su cardstock, mme tangerine dp, 3 Girl Jam ribbon and bow maker, CC button, Timeless Twine,